Unique villa in El Bosque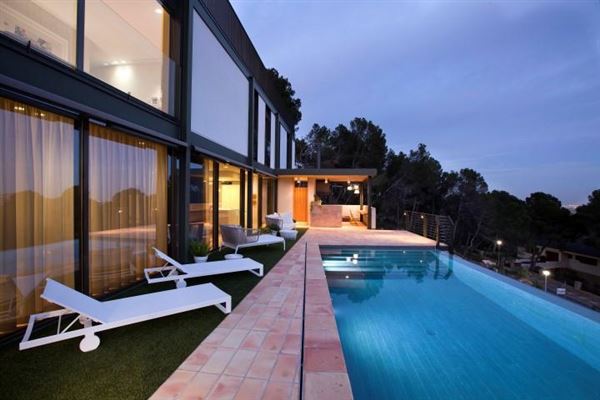 This impressive villa is located in the exclusive residential complex El Bosque in Chiva, Valencia, with a beauty that crosses every boundary and awaken all your senses.
Why is this property so valuable? We could start highlighting the exclusivity of its surroundings as it stands on a plot of 1,300 square meters enviably located in the residential complex El Bosque which offers all kinds of facilities including private security. Although it is 30 kilometres away from the centre of Valencia, it provides a natural environment with outstanding views, as it boasts an elevated position offering views of the Mediterranean-style forests embellished with pine groves. Its east orientation towards the coast allows to enjoy the pleasant temperature throughout the year and the beautiful sunrises.
The natural surroundings have been the perfect setting for the construction of this property featuring a unique architectural style, which was recognised by the Colegio Territorial de Arquitectos de Valencia (Association of Architects of Valencia) when they decided to select the best 50 buildings of the region. It is an architectural project of 2014, in charge of Mano de Santo studio. Designed to integrate inside with outside, it boasts a contemporary style with straight lines, and it combines concrete and crystal and stone and wood.
The interior layout has been skillfully designed in order to please the family and their guests. The 450 square meters are arranged over three levels with five bedrooms and six bathrooms, three of which are en-suite. The communal area is comprised of a living room with views to the infinity pool, a completely equipped chic kitchen, a cinema room and a private bar area.
Offering versatile ambiences allow each member of the family to enjoy either organising a party or chilling out. It offers a flexibility that gives a unique value as a family residence.
Built in: 2014
Web id: PJRD
MLS#: RMGV2273
Bedrooms: 5
Bathrooms: 6
Company
011-34-96-579 10 35